Hortus Vitae Essays On The Gardening Of Life
Enter your search terms separated by spaces, then press <Enter>. Avoid punctuation except as indicated below:
Suffixes
.
exact match
Prefixes
a.
author
t.
title
s.
subject
l.
language
#
ebook no.
n.
ebook no.
cat.
category
Operators Always put spaces around these.
|
or
!
not
( )
grouping
| this query | finds |
| --- | --- |
| shakespeare hamlet | "Hamlet" by Shakespeare |
| qui. | "qui", not "Quixote" |
| love stories | love stories |
| a.shakespeare | by Shakespeare |
| s.shakespeare | about Shakespeare |
| #74 | ebook no. 74 |
| juvenile l.german | juvenile lit in German |
| verne ( l.fr | l.it ) | by Verne in French or Italian |
| love stories ! austen | love stories not by Austen |
| jane austen cat.audio | audio books by Jane Austen |
The Brown Wedge
4
Feb 18
Read Harder Challenge (3 of 24): DATURA
Tom • The Brown Wedge • readharder • Post a comment • 73 views
Datura, or a Delusion We All See by Leena Krohn
(Read as part of the Book Riot Readharder challenge 2018. Category: A single-sitting book.)
An anonymous woman in an anonymous (though clearly Nordic) city receives a flower for her birthday. She begins dosing herself with its seeds, to help her asthma. At the same time, she takes a job working for The New Anomalist, a magazine devoted to the uncanny and paranormal, whose publisher is always looking for a fresh (and profitable) angle. Datura is told as a series of vignettes – disordered notes, according to the narrator – of encounters with the uncanny. Some are under the aegis of the magazine – but others, increasingly, seem to be spontaneous, and the notes grow less and less reliable…
»
More
31
Jan 18
Read Harder Challenge (2 of 24): HORTUS VITAE
Tom • The Brown Wedge • readharder • Post a comment • 79 views
Hortus Vitae: Essays On The Gardening Of Life by Vernon Lee
(Read as part of the 2018 Read Harder challenge. Category: A book of essays.)
Vernon Lee, pseudonym of Violet Paget, was an essayist, story writer, and aesthete active in the late 19th and early 20th Centuries. She's not quite forgotten now – there's a Vernon Lee society with its own journal – but her essays come quite low down the list of things people remember about her. She's better known for her supernatural fiction, her feminism and pacifism, and her theories of psychology and aesthetics – she was one of the first people in English to use the word "empathy".
»
More
15
Jan 18
Read Harder Challenge (1 of 24): SIX TO SIXTEEN
Tom • The Brown Wedge • readharder • Post a comment • 107 views
Six to Sixteen: A Story for Girls by Juliana Horatia Ewing
Read as part of the Book Riot Read Harder 2018 Challenge (Category: "A children's classic published before 1980")
She's no relation, but I've always had a curiosity about the work of my mid-Victorian namesake Mrs Ewing, author of dozens of books and short stories for children. In her time a bestseller – enough that her early death sparked an 18-volume memorial edition of her collected works – hardly anyone reads her now, but there's a chain of admiration linking her to the present day. There's something of Mrs.Ewing's unpatronising interest in childhood concerns in the work of E. Nesbit, for instance (who is not much read herself but whose flame is kept alive by Pullman and others).
Even so I was a bit scared to approach Six To Sixteen – I had the idea Mrs Ewing's books might be rather dry and improving, since she was keen for them to lead her child-readers along virtuous paths. But I was wrong. If there's a central message of Six To Sixteen, it's one that's orthodox today but I suspect was a good deal less widely agreed in the 1860s – the need for girls to have an education and lifestyle that strongly emphasises curiosity and "intellectual pursuits" (everything from art to naturalism to languages) over the traditional domestic and social spheres of the Victorian feminine.
»
More
3
Jan 18
Good Comics I Read In 2017
Tom • The Brown Wedge • Comics • 5 comments • 289 views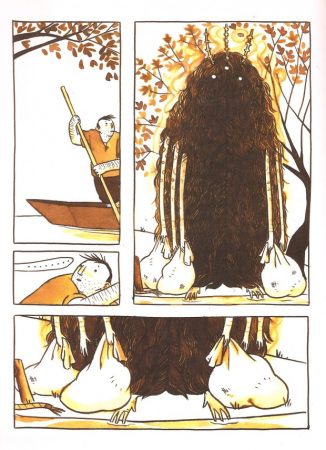 I'm not doing a comics poll this year – the slack is being admirably taken up with Pete's new TV poll – but I still read a LOT of comics last year. Here, in no special order, were some of the best ones, new to me if not always to the world.

HOW TO BE HAPPY (by Eleanor Davis; Fantagraphics)
I loved this, a collection of beautifully composed stories and vignettes in a variety of styles, from gorgeous colour-saturated paintings to quick, fluid multi-page sketch stories that reminded me of Jules Feiffer (who's also a reference point for Davis' sharp observations of human neuroses). Some of the stories are glimpses into imagined worlds – like a near-future family reunion – others, like the eerie, funny, "Seven Sacks" – draw on folklore tropes. Davis' skill at capturing the movement of bodies makes the simplest of ideas sing on the page.
»
More
3
Dec 17
Canoe: Dig It?
Tom • The Brown Wedge • Post a comment • 123 views
La Belle Sauvage by Philip Pullman
Philip Pullman has an enviable knack of getting critics to dwell on the high-flown literary allusions in his books – Paradise Lost in the His Dark Materials trilogy; The Faerie Queene here. But he's also very self-consciously in dialogue with the rich history of children's literature, most obviously CS Lewis, of whom Pullman's vociferous critique is matched only by his wholesale borrowings. Pullman's anxiety-of-influence tango with Lewis helps give his books their imaginative charge as well as their moral and aesthetic mission.
»
More
8
Sep 17
Love And Rockets: Notes On A Re-Reading (I)
Tom • The Brown Wedge • Comics/love and rockets • Post a comment • 180 views
Repurposed and edited Goodreads reviews of the Love And Rockets Library (by Los Bros Hernandez; published by Fantagraphics).
Heartbreak Soup (Gilbert Hernandez)
This is my third or fourth time reading these stories, but the first for a decade or so. No criticism here – these are foundational for me, some of my favourite ever comics. The first time I read the early stories here – 25 years ago now – I remember feeling a little sad at how quickly Gilbert Hernandez moved time forward. The world of the first Palomar story was so charming I wanted to stay there longer – but time and change, the steady accretion of consequences and histories, is the essence of both sides of Love And Rockets.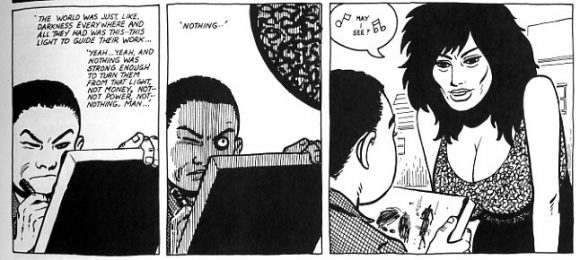 »
More
27
Jan 16
The Freaky Trigger Comics Poll 2015: #12 – #1
Tom • FT + The Brown Wedge • Comics/comics poll 2015 • 5 comments • 518 views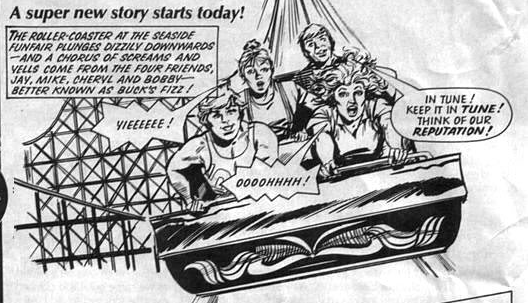 "Hi, we're Jay, Mike, Cheryl and Bobby, better known as Bucks Fizz, stars of LOOK-IN magazine – oh the mischief we got up to! Nothing risque, you understand, it's a children's paper. Of course we're also famous as the inspirations for Amaterasu, Inanna, Lucifer and Dionysus from last year's comics poll winner, The Wicked + The Divine, which we thought we'd remind you of just in case it turns up again below. Our own comics career has been a little quiet lately but between you and us I think hosting this amazing Top 12 will be just the leg-up we need for a new beginning (mamba seyra), maybe a licensed series from IDW or perhaps Boom! Studios. Move over Jem and the so-called Holograms, Bucks Fizz are back and ready to twirl!"
Thanks, Bucks Fizz! Yes, bringing the curtain down on Poll Month, it's the Comics Top 12. As usual, an asterisk means I haven't read any of it but thankfully Kat has once again stepped in to lend her webcomics expertise to the countdown.
»
More
19
Jan 16
The Freaky Trigger Comics Poll 2015: #24-#13
Tom • FT + The Brown Wedge • Comics/comics poll 2015 • 2 comments • 349 views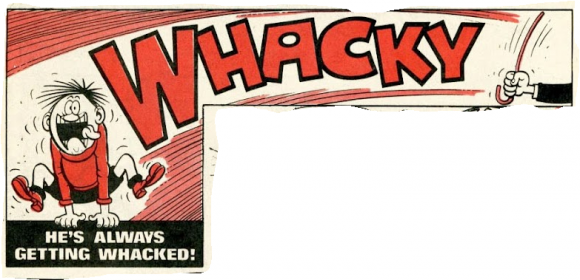 "Hi Readers! It's WHACKY here from COR!!, the weekly mag that thrashes the others. You've not seen much of me in comics lately, which is a bit of a sore point. I used to have to beat the offers away, but frankly, now Corporal Punishment in schools has been given the boot, there's not been much call for my services. It's a shame – a good whacking builds character. It certainly built mine. Still, I'm happy to help Freaky Trigger with their punishing poll schedule – they're caning these results posts at the moment. Here's the next instalment of the comics poll – I'm sure you'll agree it features some real belters!"
Thanks, Whacky! I said in the last block of comics that it had the most titles I hadn't read in. That, er, turns out not to be the case. Apologies for the perfunctory nature of some of the commentary below! As ever, an asterisk signals that I've not read any of it. We pick up with number 24…
»
More
15
Jan 16
The Freaky Trigger Comics Poll 2015: #37-#25
Tom • FT + The Brown Wedge • Comics/comics poll 2015 • 3 comments • 293 views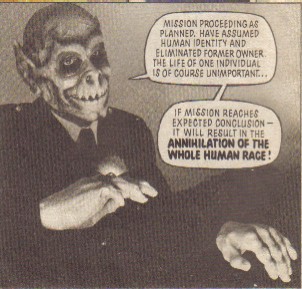 "Greetings people of Earth. It is I, Servitor Vek of the Doomlords of Nox. My all too convincing alien visage has come among you to pass final judgement on your species. I expect to reach a guilty verdict. Perhaps the comics you have selected in the Freaky Trigger poll can persuade me that despite humanity's many imperfections, you deserve to be spared cosmic annihilation… for another few weeks."
Gosh, thanks Doomlord. This is the – slightly delayed – second section of this year's comics poll, and also has the honour of being the section where I have read fewest of the titles voted for. Will that stop me making brief and ill-informed comments? No, it will not. (An asterisk means I haven't read it AT ALL, though)
»
More
6
Jan 16
The Freaky Trigger Comics Poll 2015: #50-#38
Tom • FT + The Brown Wedge • Comics/comics poll 2015 • 1 comment • 356 views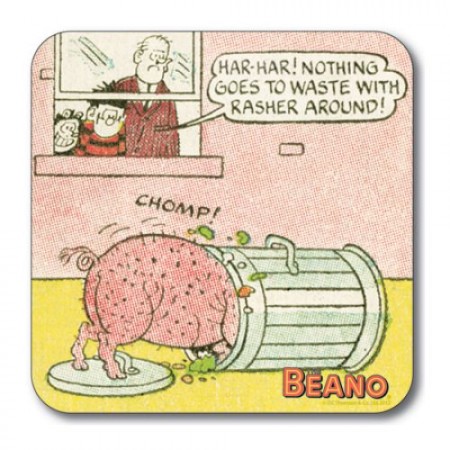 "OINK! GNURF! SLURP!! SLOO!! GNAROOSH! GRUNT! SNAFFLE!! CHOMP! SNORRT!"
Translation: "Good morning, everyone. I'm Rasher, the porcine companion of that young shaver Dennis, and I'm delighted to introduce the 2015 Freaky Trigger Comics Poll. In a year when pigs have had rather a rough ride in the news, it's wonderful to be able to show that we are cultured animals with a deep appreciation of the 'Ninth Art'. Some of the comics here may not meet my high aesthetic standards, but I think you'll agree that the diversity of the list is a credit to its voters and our shared hobby. Now if you'll excuse me, I have an appointment with some week-old cabbage."
Thanks Rasher! We had more voters, and more nominated comics, than last year, with the happy result that I've actually had to leave off some titles to produce this Top 50. I'm still greedy enough to go up to 50, mind you. The Comics poll is unique in that the same titles can, in theory, win it again and again if they're being published year on year. So it's worth reminding you all that last year Image Comics' The Wicked And The Divine pipped Marvel's Ms Marvel to first place by one solitary point, with Loki: Agent Of Asgard in third. Will any or all of those show up this year? Wait and see!
»
More
« Older