Stephen Booth Bibliography
After winning the Lichfield Prize in 1999 for his unpublished novel, The Only Dead Thing, Stephen Booth won a contract with Harper Collins to write two crime novels: the result was Black Dog (2000) and Dancing With the Virgins (2001). Both novels were immediately successful and acclaimed, winning awards in both Britain and the US, as well as attracting large numbers of fans amongst readers of crime fiction. The two-book deal soon led to a much longer series: since Black Dog, Booth has published approximately one crime novel a year, and each one is part of the Cooper and Fry series, featuring Detective Constable Ben Cooper and Detective Sergeant Diane Fry. The series is set in England's Peak District, beautifully and vividly evoked in Booth's prose, which sometimes explores the legends and history of the local area. The setting provides a poignant and atmospheric backdrop to the stories of crime and mystery, while the popularity of Booth's novels has increased interest in the area itself: in 2006, the Peak District National Park Authority featured locations from the Cooper and Fry series in its visitors' guides.
As a new author in the field of crime writing, Booth has carved out his own niche and his own style. T.J. Binyon comments in a review of the first novel: 'Black Dog is an exceedingly good first novel; wholly engrossing, it has well-drawn characters and a real sense of place ... Stephen Booth is very much his own man, with an individual style ... ' (London Evening Standard, 4 December 2000). Along with the compelling evocation of place and atmosphere, and an authentic depiction of rural communities, Booth's novels are acclaimed particularly for their strong and perceptive characterisation. The relationship between Ben Cooper, a young detective who is local to the area, and his superior Diane Fry, an ambitious outsider, is complex and unpredictable, and Booth has maintained the suspenseful ups and downs of this relationship throughout many novels. Even the minor characters are usually multi-layered and carefully constructed, flawed yet sympathetic - and thus they incite reader-identification and empathy and draw one more deeply into the stories. Booth is also a master storyteller: highly skilled at careful, complex plotting and build-up of suspense, he creates novels that are gripping page-turners, often pervaded by dark, haunting mysteries. Furthermore, his journalistic background has given him the ability to undertake thorough research and to present detailed information in a clear, succinct style.
Reginald Hill, the creator of the Dalziel and Pascoe series, acclaimed Booth's first novel: 'Stephen Booth's Black Dog sinks its teeth into you and doesn't let you go. Powerful, atmospheric and as dark as its title, it is a serious novel of character and relationships as well as an ingeniously plotted and neatly resolved detective story. A dark star may be born!' Black Dog (2000) is set in the midst of a hot summer in a Peak District Village, where a local teenage girl is missing: Laura Vernon is the daughter of a wealthy local businessman, but her body is soon discovered and a murder hunt is launched. Booth skilfully intertwines this chilling and absorbing story, which involves uncovering the local area's dark secrets of the past, with the first meeting of his two detectives, emphasising their contrasting personalities, backgrounds and values: Cooper knows the local area and its people inside out, and his rather personal, empathetic approach clashes with that of Fry, who is ambitious, cold and detached. The tension is increased by their rivalry for a promotion and, of course, a spark of attraction, while their characters are given more depth by the gradual unravelling of their respective pasts and emotional troubles, revealing both to be quite vulnerable. Booth, therefore, offers plenty of scope for the characters of Cooper and Fry, and the dynamics of their working relationship, to be developed in subsequent novels.
Many of the crimes and mysteries in Booth's novels involve an intricate tangle of past and present that must be unravelled in order for the crimes to be solved - hence the complexity of plots and storylines. While all the novels draw evocatively on the Peak District setting, Dancing With the Virgins (2001) makes the most direct use of the landscape and local history. The 'Nine Virgins' of the title, a ring of legendary old stones, is the site of an eerie discovery: the body of a local woman is placed alongside the stones, arranged in a dancing posture so as to appear as the tenth figure in the circle. The investigation of this murder, like that of the first novel, involves unearthing layer upon layer of local secrets and mysteries.
Blood on the Tongue (2002) begins with several seemingly disparate mysteries: Fry is investigating several recent and unexplained deaths, while Cooper is preoccupied with an old case, that of an RAF plane that crashed in 1945, killing all the passengers except the pilot who walked away and has never been found. Tension between the two detectives builds as Fry is determined to persuade her colleague to focus on the present-day cases. However, it soon becomes apparent that the old and new cases are interlinked, and once again Booth combines the investigation of crime with the dynamics of the relationship between Cooper and Fry.
Though Booth originally intended to write just a couple of novels in this series, he has yet to run out of ideas: Cooper and Fry and their Peak District crime-solving have provided the author with fodder for almost a novel a year for over a decade. Each has its own unique story, while maintaining Booth's particular style: dark, brooding and complex stories in which characterisation is central. In One Last Breath (2004), the detectives are on the trail of a fugitive who is hiding in the underground caves of Derbyshire, though Cooper is uncertain of the man's guilt; in Scared to Live (2006), the investigation of a series of deaths in the local area causes Cooper and Fry to become involved with Eastern European gangsters, and Fry finds her feelings stirred by a Bulgarian police officer; in Dying to Sin (2008), several bodies are discovered at Pity Wood Farm, and the detectives must call upon the help of local people in order to uncover the history of the farm and its many migrant workers.
Lost River (2010), like many of Booth's novels, explores the dynamics of family: Cooper, investigating the accidental drowning of an 8-year-old girl, begins to unravel the complexities of the girl's family, while Fry is involved in a case in inner city Birmingham which takes her back to her own traumatic childhood roots.
Booth himself comments that, in all his fiction, the exploration of human relationships is pivotal: 'I'm a writer whose starting point isn't plot, but character. The characters have to be fully real for me ... I'm trying to portray people with all their faults and frailties, their emotions and vulnerability. I don't think there are any real heroes in my books, or complete villains. No one is entirely innocent, and the guilty are victims themselves in their own way' (Booth interviewed in January magazine, 2002, http://januarymagazine.com/profiles/sbooth.html).
Elizabeth O'Reilly, 2010.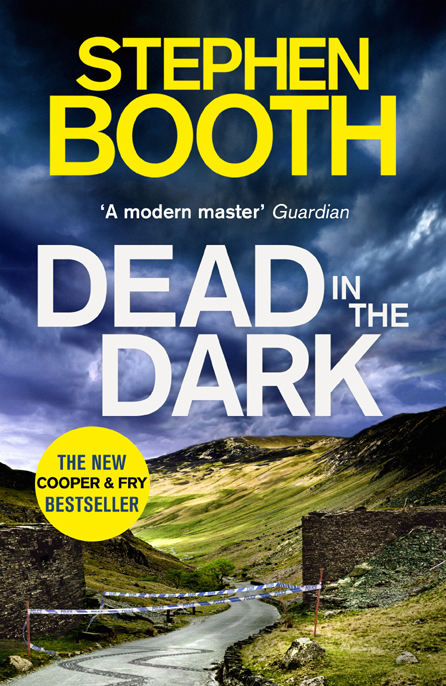 Visitor number:

Site last updated 28th February 2018
©Stephen Booth 2018
NEXT EVENTS
Thursday 15th March - talk to Ripley U3A, Derbyshire
Wednesday 18th April - talk to Sutton History Group, Nottinghamshire
Tuesday 24th April
- talk to readers, Alsager Library, Cheshire
For details,
visit the
Events Page
Click on a link to buy
DEAD IN THE DARK in UK hardback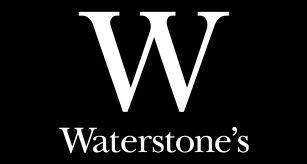 >
>
News
The books
The author
Events
Sales Page
Peak District
Newsletter
Forum
Press Room
What the reviewers say:
One of our best story tellers"
- Sunday Telegraph
"A modern master of rural noir"
- The Guardian

"There are few, if any, contemporary writers who do this as well as Stephen Booth" - Arena magazine

"Atmospheric, psychological stunners"
- The Bookseller

"Some of the best crime fiction in the UK" - Manchester Evening News

"Suspenseful and supremely engaging. Booth does a wonderful job"
- Los Angeles Times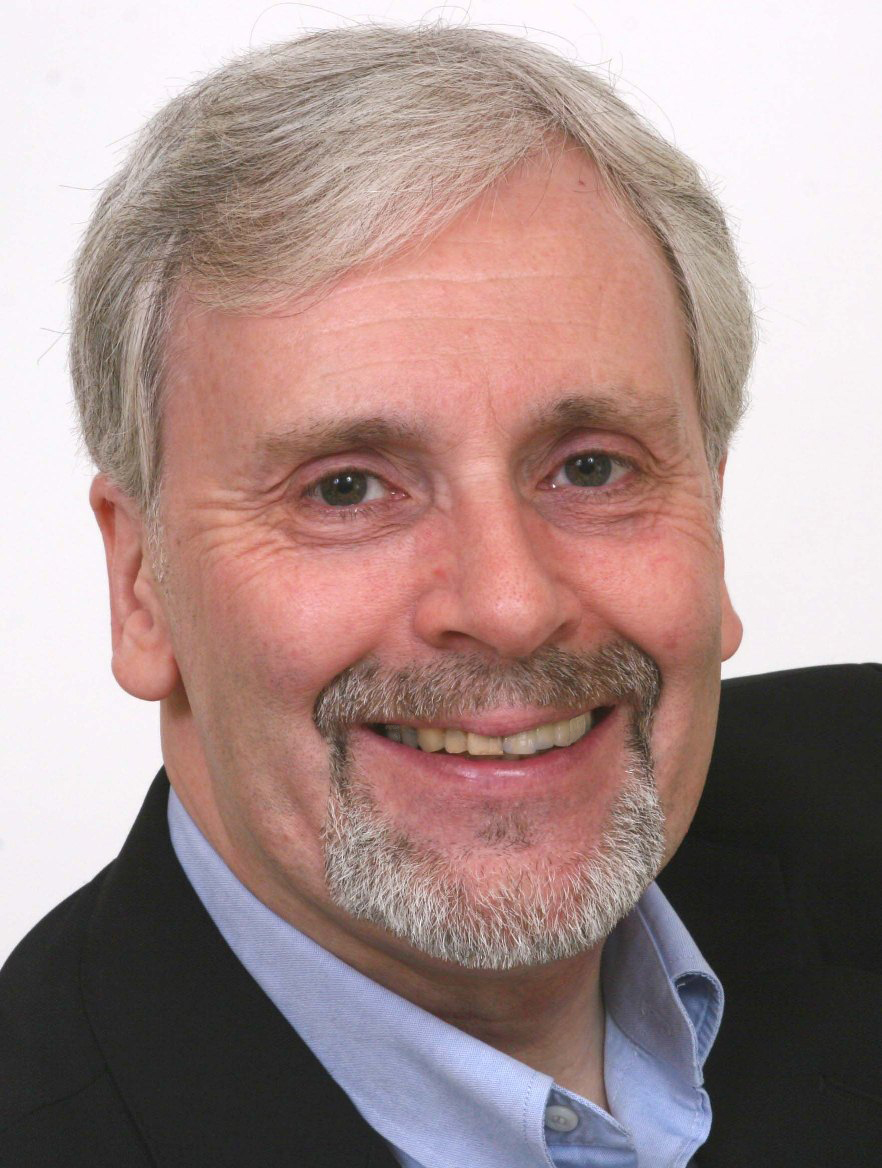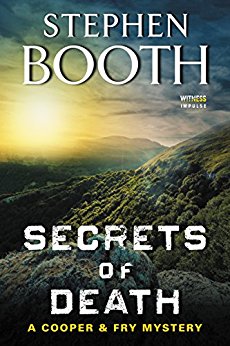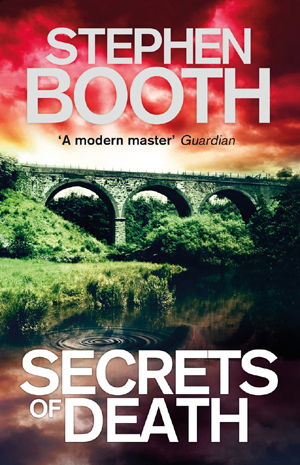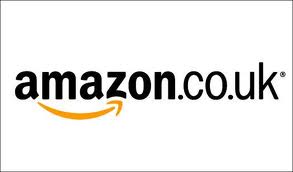 Discover the award-winning Cooper & Fry series, set in England's Peak District
OUT NOW
IN THE UK
the new Cooper & Fry novel
DEAD IN
THE DARK
"Impeccable police procedural
with a touch of class"
or catch up with
SECRETS OF DEATH
Available now
in the USA:

SECRETS
OF DEATH
has been
released in
US ebook
formats by
Witness Impulse

Download here:
Amazon.com
Barnes & Noble
Other Cooper & Fry titles available: