A singular anniversary went pretty much unnoticed in the United States eight days ago. On Sept. 23, 1838, a woman named Victoria Claflin Woodhull was born in Homer, Ohio. She is important because she was the first woman to run for president of the United States. She did that in 1872. Her campaign was financed in part by the wealthy industrialist Cornelius Vanderbilt.
The anniversary occurred just 11 days after a book by Hillary Rodham Clinton, another woman who ran for the presidency, was released into the world.
It is called What Happened. It is the story of her 2016 election campaign against Donald Trump.
Though she won three million more popular votes than Trump, she was beaten in the weirdly anachronistic Electoral College.
I haven't read the book; I'm not much on political memoirs, which tend to be overly self-serving. She was on the book trail this week in Canada. But I remain intrigued by the nagging holdover question from the campaign: why do so many people hate Hillary Clinton?
The release of her book has re-stoked the Hate Hillary fires. And I can't understand why.
On view during the 2016 campaign was one of the sharpest minds in recent US political history. She was tough, articulate, sympathetic, compassionate, fearfully focussed. In the early going I almost, but not quite, felt sorry for Donald Trump who was so outgunned on every front.
American media have, for some reason, long waged anti-Hillary ambushes.
Maureen Dowd, the op-ed columnist for The New York Times, has been sniping at Clinton for years. She has called her "shifty", "a dominatrix" and said of her 2016 campaign: "In 2005 she ran as a man, now she's running as a woman."
Clinton has been called untrustworthy, but the fact of the matter is that she is one of the most openly honest politicians in the country. Last year the media made a huge deal over the e-mail non-scandal — her use of a private server, something done by several of her predecessors, notably General Colin Powell. And as we now know, several Trump staff have done the same thing.
A post-election Harvard media study showed that the e-mail scandal accounted for 16 per cent of her campaign coverage, or four times the attention paid to Trump and his treatment of women, and 16 times the amount of coverage of her actual policies.A delegate holds anti-Hillary sign on the first day of the Republican National Convention on July 18, 2016 at the Quicken Loans Arena in Cleveland, Ohio. (ANDREW CABALLERO-REYNOLDS/AFP/Getty Images)
As Larry Womack pointed out in The Huffington Post, nobody paid much attention when the Bush administration erased millions of e-mails relating to the firing of U.S. Attorneys. At no point was the security of the U.S. jeopardized by her. It was a non-story.
Of the nine presidential nominating conventions I've covered going back to 1968, the GOP convention in Cleveland stands out. The hate for Clinton in the arena was almost palpable, orchestrated and led by Donald Trump himself. 
Many in the audience were the favoured knuckle-draggers of his base, but many were ordinary, upper-middle-class Americans. The chants of "Trump the Bitch" and "Lock her up" were to my memory unprecedented in modern American political history.
No, Hillary Clinton didn't lose the election because of phony scandals. She lost the election for one reason and one reason only. She lost because she is a woman. She lost because she is a smart, tough, successful career politician who dared to run against a man.
I worry that because of the way Clinton was treated, it will be a very long time before another woman of talent dares to run.
Click 'listen' above to hear Michael's essay.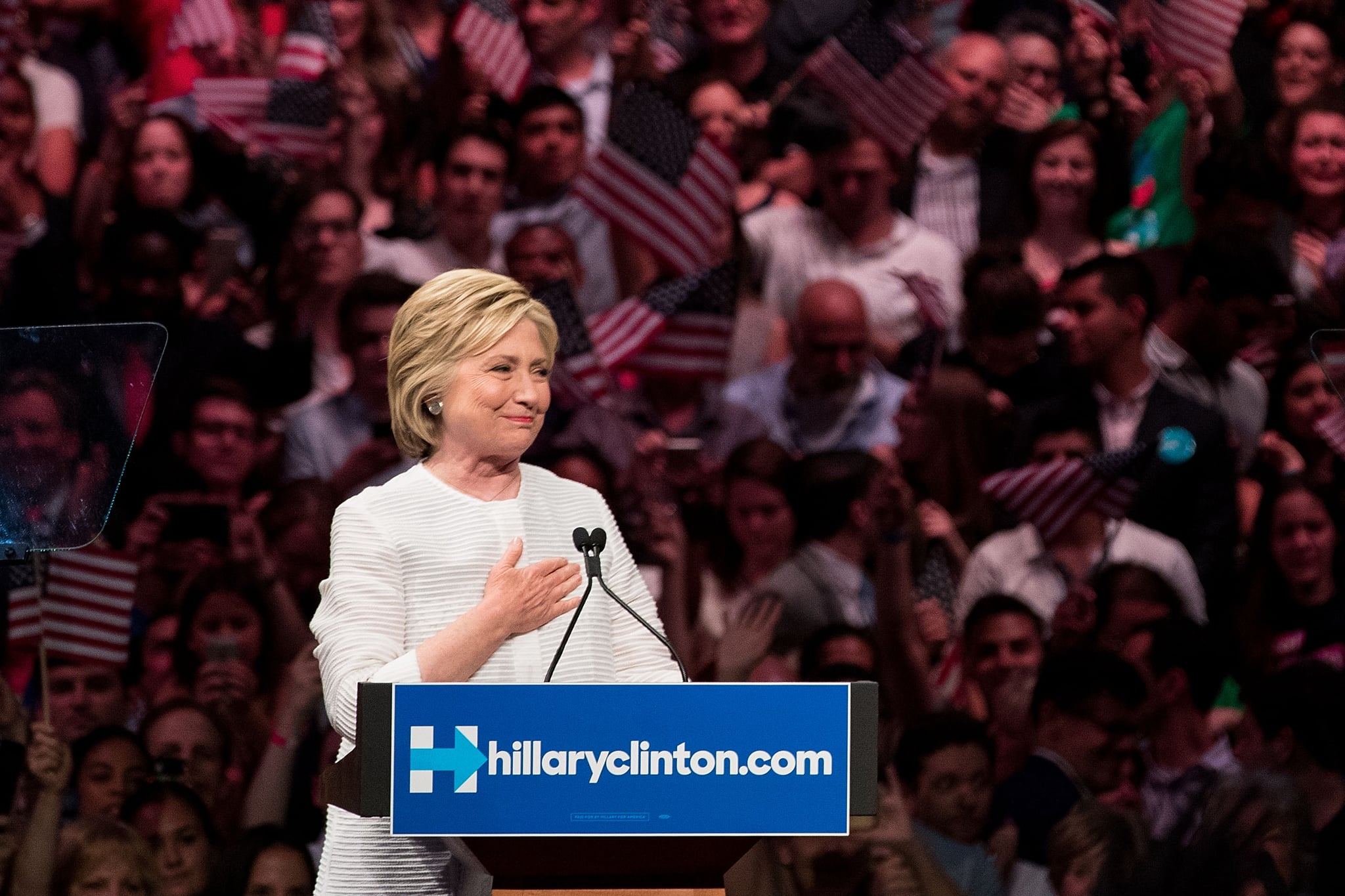 If I had a dollar for every complaint I've seen floating around lately about Hillary Clinton's new book, What Happened, I'd be able to buy this bag I've had my eye on. And also these shoes. And perhaps this coat, too. Yes, my wish list is really long right now, but hopefully you get the point. It's a lot.
It seems to me that much of the criticism Clinton is currently up against stems from one issue: her refusal to disappear into the abyss. Just one glance at the explosive excerpts from What Happened make it abundantly clear that Clinton has no intentions of fading out of the political arena quietly, despite repeated calls from both sides of the aisle to do so. While Clinton does explicitly take responsibility for her own mistakes during the campaign in the book, she also doesn't shy away from laying out exactly who else she believes contributed to her defeat. From former FBI Director James Comey to primary opponent Bernie Sanders, the account seems to be in line with exactly what I expected from one of the toughest figures in modern political history: a painfully honest, no-holds-barred account of the most bizarre political saga in recent history.
Related
Everything You Need to Know About Hillary Clinton's Upcoming Book Tour
The political machine isn't happy with What Happened, that much we can say for sure. It is obvious that most were not anticipating such blunt rhetoric from her camp so soon. Take Sanders, for example. The book makes explicit mention of the "lasting damage" she believes he did to her campaign. His response? He finds it to be "a little bit silly to keep talking about 2016," which is ironic, considering Sanders made that statement while out promoting his own book on the very same subject. Or Republican Senator John McCain, who explained to Politico that "with these kind of things that happen in life, you've got to move on. You've got to quickly move on," which seems like a thinly veiled euphemism for "stop talking indefinitely." Or even a former Clinton surrogate who just came right out and said what the others were thinking, telling The Hill that "the best thing she could do is disappear."
So the first woman in American history to secure the presidential nomination of a major political party should just go away because you said so? I think the hell not.
Whether you adore Clinton or count yourself among those who won't be satisfied until she moves into an underground bunker, she doesn't need anyone's permission to put her version of events down on paper.
Personally, I find that all of these critiques support the same unfortunate idea: that Clinton shouldn't get to tell her side of the election story until the rest of us decide we're ready to hear it. Perhaps people will be more open to rehashing the details when the Democratic party is more united, or when Donald Trump is out of office, or when world peace is restored. But it doesn't matter. So much of the behind-the-scenes story of the 2016 election is Clinton's alone to tell — and whether we like it or not, that means it's up to her to decide when she's ready to tell it.
Related
Hillary Clinton Reveals How She Got Over Losing the Election (Hint: It Involves Chardonnay)
The bottom line is that whether you adore Clinton or count yourself among those who won't be satisfied until she moves into an underground bunker, she doesn't need anyone's permission to put her version of events down on paper. And she certainly doesn't need anyone's permission to decide when she, or the world, is ready to have that story told. The masses can hate her — she's used to it, I suspect — or despise the book and take issue with the entirety of its contents; all of those reactions are perfectly acceptable. But at the very least, she deserves the opportunity to share her side of the story — preferably without a chorus of men telling her to shut up already. Maybe just this once, we can keep our mediocre Clinton-only-visits-Wisconsin-when-she's-on-a-book-tour jokes to ourselves, and let a woman who just experienced the political equivalent of hell have the moment (that she most definitely earned) to speak her mind.
Image Source: Getty / Drew Angere